I Am Not Satisfied
I heard the reviews for Club Extreme.... very good. well from one source. Kinda makes me wish i was there. but i guess i will see when i finally get home. If i can scrape together 40 BDS. They really trying to keep out the common folk there. But I have to be like everybody else and go check it out.

I woke up to my nephew 'playing' piano and 'singing' over the phone this morning. I NEED to get home. SOON

Im just not satisfied with the life Im living in trinidad. Its substandard. I thought I was enriching it by going out more often but thats still not working. And I dont want any more male attention, thats too much stress. But then again, have I EVER been satisfied? I dont think so. But this is definitely not good enough

I really dont have time to be thinking about this shit anyways. I got too much so and so work to do.




Blogging In Point Form
for those with limited time (not me)
suggested by that girl Kerry

here goes

- Its Friday
-YEAH!





sometimes I have these thoughts and harbour these bad feelings against people. I know its not nice... but sometimes when ive been done wrong, instead of just getting over it, I get over it and leave a bit of resentment in my heart. Like I kinda forgive but not fully.
thats just not cool.
i know bad thoughts are just a waste of time.
but i cant help it
some bitches just deserve what they get

oh..did i say that out loud???

but im harmless......






Study Break
Im actually studying. very hard too and efficiently. im so proud of myself. but my attention span is 1 hour flat, well 1 and a half if i push myself.
But Im up on main campus and Ive noticed something that disturbs me greatly. The raio of attractive males to attractive females is distressingly tiny. its approaching zero. And because of this there are some substandard specimens walking around thinking theyre the sh*t and theyre really not. It's good to have confidence... but you should also know your limits. I wonder if it's that good looking guys dont go to university.....
ANYWAYS.....

How To Tell A Guy Is Losing Interest

Ive observed this time and time again. mostly because said guy wasnt getting the better end of the deal i.e. putting in alot more than he's getting out of the 'relationship' It usually takes about 1 month or it could take a little while longer for those die hard Ade fans:)
But Ive also had it happen in real relationships. shit happens like that. But onto the signs...

1. Communication becomes less and less. whether in the form of emails or phone calls. Said males becomes more and more 'busy' and these things keep him from communicating when they never used to before. Theres always a minute in a busy day to say hi. always.
2. He puts up with your shit less and less. Tolerance wanes. And this isnt in the form of retaliation...its in the form of indifference.
3.Gifts stop coming.
4. He doesnt try to impress your friends anymore. theres no sense in trying to gain their favour
5. More outings with the guys planned. Its 'legit' time away from you...
6. Your company is less sought after.

this is just my list. there are different stages where things become more and more obvious.

in the end stage... you do all the calling and when you see him in the club he's with another chick.
if you see these signs early you can detach yourself from the situation and prevent unnecessary suffering on your part.


Dr. Ruth signing out

back to studying




im a predictable prude......




If Youre Happy And You Know It...
expect something really shitty to happen.
i refuse to study for this exam!
and whoever said honesty is the best policy is a dickhead!
can school just get over with and let me go to my house with my family!?
Insert maniacal scream here

Im losing it.... im definitely losing it





Night Before The Exam Boredom
the usual rebellion the night before an exam causes me to do things like this....

these are my flatmates and me before we went out to dinner on friday night
i thought it was a nice pic so i figured id like to share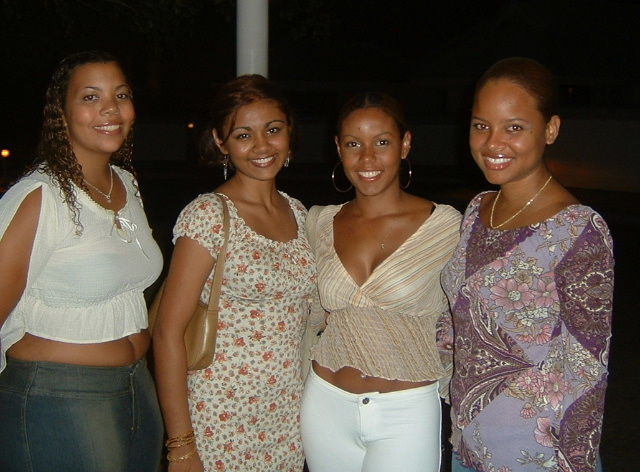 im the one without the tan:(




Images Of War
Ive refrained from thinking too deeply about the conflict in Iraq or even watching the reports. I dont like to waste glucose on things I have no control over. It's a pretty bad stance to take but this is how i stay as stress free as possible. But today I was bored and decided to get a quick update. Of course I got sucked in to the whole CNN thing. And now I know with more certainty that I wont make it a habit.
Watching the reports makes this so much more real. Its depressing to think that there are people like me out there with families that have to live in constant fear for their lives. Children that lose their parents, entire families having to leave their homes and try to find a safe place to stay. And the children in all of this. I cant imagine the fear and confusion.
And the thing is that there are people all over the world that have been living like this for a while, while I take so many things forgranted.
But the point is... this is why I dont want to watch the news. Whats the sense in ruining my day over shit I didnt start and shit I cant end. Shit thats been happening before I was born and shit that will be going on long after I die.

Maybe I should focus on the stuff I can control and try to get to some studying. Exam on Tuesday...will it ever end!!!:S